Co-Pastor Monique Gamache Venne
Monique Venne first experienced a call to priesthood in fourth grade, when she wanted to be an altar server even though it wasn't allowed at the time. Not interested in becoming a nun, she pursued studies in the natural sciences, receiving a B.S. in Physics and an M.S. in Meteorology and working as a professional meteorologist. She was also active in her parish as a volunteer in various liturgical ministries and served as co-director of a women's Bible study. After being laid off from her last meteorological job, she decided to pursue her avocation and received an M.Div. from United Theological Seminary of the Twin Cities in 2004. She helped found Compassion of Christ Catholic Community in the Minneapolis/St. Paul area. Monique sees herself as a person marginalized by the Catholic Church who ministers to others pushed to the margins by the Church. Interested in crafts all her life, she has won ribbons at the Minnesota State Fair for hand embroidery, garment sewing, and beadwork. She has been married since 1981 to her husband David and owns (or is owned by!) their cat Boris.
Ordained womandeacon 2010
Ordained womanpriest 2011
Co-Pastor 2010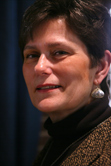 Co-Pastor Linda Wilcox
I received my M.A. in Theology and Pastoral Ministry at the College of St. Catherine in 2005. I have been active in a variety of ministries through the years in my parish, including the Just Faith program. My husband and I belong to a small faith community. Most recently I have been involved in hospice, ministry to the homeless, and hospital chaplain ministry. I have been a Benedictine Oblate with St. Paul's Monastery in Maplewood, MN. for eight years. I became interested in women's ordination through exposure to the movement at the Call to Action gathering that I attend each year. I have a passion for cooking. As I discerned my call to the priesthood I felt a strong connection between planning and preparing a meal and the Benedictine value of hospitality. I now co-pastor Compassion of Christ Catholic Community in Minneapolis, MN where I gather at the table with community and celebrate the breaking of bread at an inclusive table where "all are welcome". Linda and her husband Russ are parents of four grown children.
Ordained womandeacon 2008
Ordained womanpriest 2009
Co-Pastor 2010